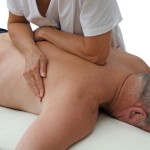 This treatment is conducted by Patrick Bryan, a Sports & Remedial Masseur.
Using much the same techniques as Body Massage, but applied with more knowledge of the function and interaction of muscles. May also include postural assessment, assisted stretches during the treatment and prescribed stretches to be done between treatments.
Suitable for any muscular aches and stiffness whether it is postural, sports related or injury rehabilitation.