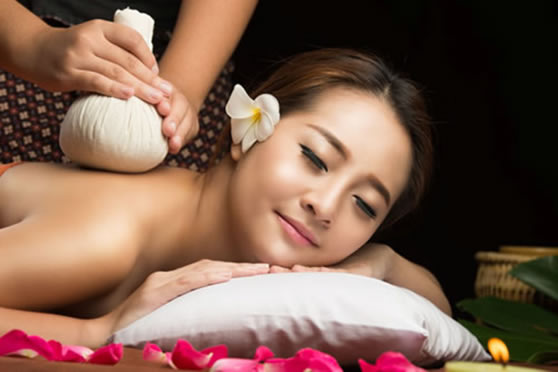 The healing practice of Thai herbal compress therapy dates back nearly 5,000 years to an era when the knowledge of plants, including their effects through ingestion or application on the body, were painstakingly researched and then passed down from one generation to the next.
This herbal therapy was designed to relieve pain and inflammation. A selection of therapeutic herbs, including ginger, turmeric and lemongrass, are wrapped in a muslin compress, steamed and then applied to the body in gentle pressing, circular and rolling movements.
In Thailand, the herbal compress is called luk pra kob, translated as "herbal pressing sphere." To make the compress, a combination of healing herbs is bundled together in accordance with ancient recipes, steamed and placed directly on the skin to soothe muscular aches and swelling.
The Thai herbal compress technique offers several potential health benefits:
Induces deep relaxation
Relieves stress and fatigue
Boosts both emotional and physical well-being
Assists alignment and postural integrity of the body
Improves circulation of blood and lymph
Helps boost the immune system
Stimulates the internal organs
Lowers blood pressure
As the pores open and allow the herbs to take effect, ailments such as stiff, sore or pulled muscles and ligaments, back pain, migraines, stress and anxiety are relieved.
The hot compresses are ideal for:
Alleviating pain
Stiff, sore or pulled muscles and ligaments
Chronic back aches
Arthritis
Skin conditions
Migraines
Chronic stress or anxiety
Insomnia
Menstrual cramps
The blend of traditional Thai herbs used in these compresses has a relaxing and invigorating effect on the body and mind, soothing sore and overworked muscles while giving the body's energy reserves a huge boost.
The compress traditionally consists of a mixture of several herbs, most containing the six basic herbs as a base: lemongrass, prai (or plai), turmeric, kaffir lime, camphor and tamarind.