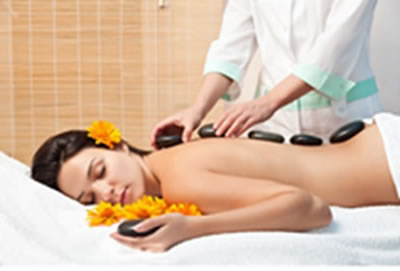 The stones that we use in this massage therapy originate from the north Himalaya region of India. In ancient India, stones where used for diagnosing certain conditions in the body and used for therapeutic purposes.
In the "Ayurvedic tradition", the stones give a double therapeutic benefit as the natural volcanic stones are rich in minerals, they allow a deep thermal exchange to take place in the body, being made similar to our skin, little tiny pores allow the heat to penetrate more deeply the bone tissue, releasing warmth into tired, aching muscles, reviving them where needed most!
Himalayan Salt is the most beneficial, cleanest salt available on this planet. It was formed about 250 million years ago where the energy of the sun has dried up the original, primal sea. The crystal salt is absolutely pristine and natural, identical in composition to the ancient primal ocean. It contains all the elements found in our bodies.
High in the Himalayan Mountains a very unique quartz crystal is found called the Tibetan Quartz Crystal. Brought from the Ganesh Himal Mountain range that borders Tibet and Nepal. Found at elevations of over 15,000 feet. They are considered to be some of the most energetically vibrant crystals available on the planet.
Crystals are incorporated into the treatment to balance your chakras. The face and scalp are also massaged in this treatment.