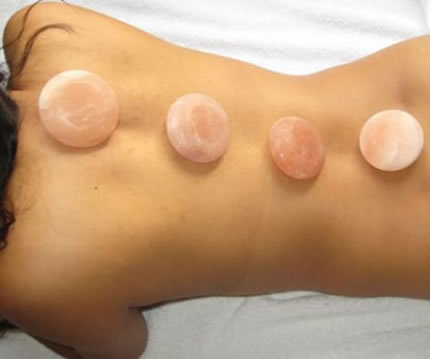 The salt crystal stones ground and balance the body's electromagnetic field, central nervous system and meridians. Salt crystals from an ancient primal sea beneath the Himalayan Mountains are hand-carved into massage stones that gently soothe away an accumulation of stress, tension and pollutants.
In this treatment the body is exfoliated with finely ground Himalayan Salt and then the body, face and scalp is massaged with hot salt stones.
The benefits of Salt Crystal Massage are:
Very deep relaxation
Reduced inflammation
Improved sleep
Improved nervous disorders
Improved sense of well being
Negative ions are produced when heated creating a sense of peace and deeper sense of relaxation
The heat of the salt melts restrictive fascia to go deeper into the muscles and loosens the joints
The moist heat of the stones assists with soothing inflamed muscles and joints
Leaves the skin feeling refreshed and glowing. The salt stones moisturize and plump up the superficial layers of the skin.
May detoxify and alkaline the body.
May aide in reduction of insomnia, blood pressure and stress.
On a spiritual level:
Can ground and balance meridian levels, chakras and electromagnetic field
Clear your prana and energy.